You work hard to ensure that your employer succeeds. If you suffer an injury while performing your normal job duties, you deserve to be taken care of while you recover. Many Californians who are injured on the job are entitled to workers' compensation—if you are denied workers' compensation, or if you believe that your injuries were caused by negligence, consider hiring a Tracy lawyer .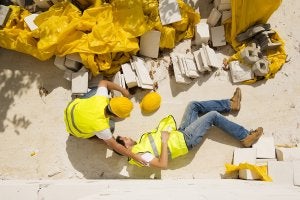 Seek Medical Attention
Depending on the severity of your injury, you may choose to seek medical attention immediately or at your earliest convenience. Regardless, it's important to visit a doctor soon after the incident, as waiting too long could cause your injury to get much worse. During the examination, be sure to tell your doctor that you suffered your injury at work.
Notify Your Employer
Notify your employer of the incident as soon as you are able. If you wait more than 30 days after the date of the incident, you may forfeit your right to receive workers' compensation. Some injuries occur gradually—if this is the case, inform your employer as soon as you suspect a job-related injury.
Analyze the Incident
If all goes well, you should begin receiving your workers' compensation benefits within a few weeks. However, you might find that this compensation isn't enough. Consider analyzing the circumstances surrounding your injury—if you detect any evidence of negligence, you might file a personal injury claim against your employer.
Hire an Attorney
There are a lot of potential complications surrounding work injuries . For example, your employer's insurance company may deny you benefits based on something you said. If you are subjected to hard questioning, or if something seems amiss with your compensation benefits, consider hiring an attorney. A skilled lawyer can also help you investigate the circumstances of your injury and help you determine whether to pursue a personal injury claim.