Auto Accident Injury in Tracy, CA
Bakerink, McCusker & Belden's Car Accident Lawyers
Bakerink, McCusker & Belden believes every individual who suffers a vehicularly-caused injury while driving deserves the representation of an experienced auto accident injury. Tracy, CA residents who suffered whiplash, broken limbs, or other injuries during an accident can trust our legal team to plan a legal strategy and advocate on your behalf. Don't pay out of pocket for medical and rehabilitation costs. Instead, take action today to protect your financial and medical future. Our firm has served countless clients throughout the Central Valley and the surrounding areas for more than 35 years.
When to Contact Bakerink, McCusker & Belden
It isn't uncommon to forget what to do in the moments, days, and weeks following an accident. Being uncertain of yourself is entirely understandable. There's a lot of adrenaline associated with a car wreck. Hopefully, you called 911, filed a police report, and exchanged information with the driver. But what comes next? If an automobile accident injured you, the coming weeks and months might be critical. The adrenaline of the accident can sometimes mask the severity of your injuries, leading to a false sense of security. It is not uncommon for our patients to report injuries after the accident, but not during the moments immediately following. However, you still need to protect your interests. Fortunately, there are some great reasons to hire auto accident lawyers at Bakerink, McCusker & Belden in Tracy including:
Your insurance company isn't taking care of you: Keep in mind, taking care of you isn't the most important thing to your insurance company. Controlling costs and enhancing profits are. Therefore, you can't always rely on them for payment to adequately compensate you. If you feel you're being taken advantage of, contact us.
You're uncertain of what damages you can receive: California law isn't easy to understand. Bakerink, McCusker & Belden can help make sense of it and educate you as to what benefits you can receive from an auto accident injury lawsuit. For instance, you have a right to seek damages for lost wages, not just medical costs. You can also receive support for pain, suffering, and emotional distress.
It has become difficult to establish liability: Car accidents happen quickly and violently, and determining liability isn't always cut-and-dry. If the process is taking too long, then you should place your trust in your legal team. We can establish liability and move your case forward, enabling you to win the damages you deserve.
Failing to hire us could result in significant financial losses: Handling everything yourself isn't wise. Between the other parties, your insurance company, and the police reports, there's far too much to handle, especially if you're injured. We take care of everything for you and make sure no stone is left unturned.
You're experiencing financial loss because of your injuries: If you can't work due to an accident-related injury, then you shouldn't hesitate to contact Bakerink, McCusker & Belden. Medical and rehabilitation costs will pile up. Don't allow them to.
Multiple parties were involved in the accident: While many accidents are simple, messier, and more complex crashes can be difficult and time-consuming to sift through. Our legal team can make sure liability is assessed and get the ball rolling on a settlement that works for you.
How Our Car Accident Lawyers  Successfully Argue Your Case
Bakerink, McCusker & Belden not only has a comprehensive knowledge of California law but we're also trained to understand the injuries most frequently experienced during an automobile accident. For instance, to successfully litigate on behalf of a client suffering from severe whiplash, we have to understand it. More importantly, we know how to document your condition. During an auto accident claim, we do the following.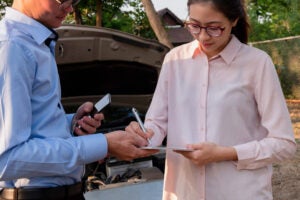 Thoroughly document the accident itself, including names and addresses of the other parties, police reports, and additional investigatory evidence.
Discover evidence of negligence on the part of the other driver, which essentially means proving the other party's actions fell short of what a reasonable person would have done in the same circumstance.
Compile medical evidence, including hospital and therapy bills, diagnostic tests, out-of-pocket expenses for medicines, travel costs, lost wages, and pain and suffering.
Speak with you extensively to discover any evidence the police or you might have missed.
Schedule an Appointment with Our Auto Accident Attorneys Today
Bakerink, McCusker & Belden are the auto accident attorneys in Tracy, CA and the surrounding area trusts most to deliver exceptional legal support during trying, difficult times. Our attorneys are devoted to their clients, never resting until a court or settlement fairly compensates them for the injuries suffered as a result of another's negligence. In addition to auto accidents, our team provides legal support for slip-and-falls, dog bites, trusts and wills, and much more. Contact our auto accident lawyers and legal representatives today for more information. We also have an inquiry form. If you fill it out, we'll get back to you immediately.
Call us for a Free Consultation!