Slip and Fall Injury in Tracy, CA
Bakerink, McCusker & Belden's Slip and Fall Attorneys
Bakerink, McCusker & Belden has over 35 years of experience representing patients throughout the Central Valley in slip and fall cases. We help Tracy, CA residents with a slip and fall injury recover lost wages, obtain compensation for medical costs, and win a judgment, including pain and suffering. The legal standard for winning a slip and fall lawsuit is strict, but our legal team has the experience to succeed. We've helped countless clients achieve what they were looking for from their lawsuit.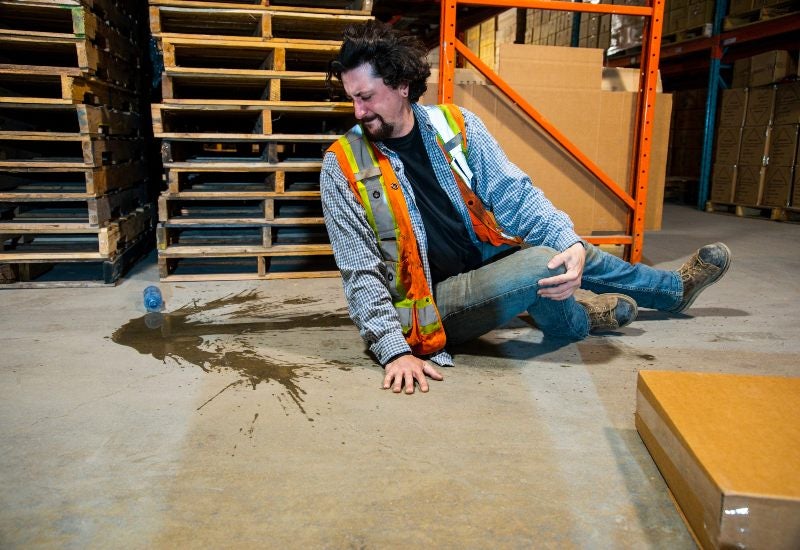 How a Slip and Fall Lawsuit Can Proceed
Bakerink, McCusker & Belden's slip and fall attorneys understand the legal standards governing whether clients can win a slip and fall lawsuit. We know when to advise our clients to accept a settlement and how much money to push for throughout the case. More importantly, we understand your involvement in a lawsuit is a challenging and stressful affair, so we do what we can to make the process easier for you. In that vein, here are some of the steps and procedures we'll need to undertake before proceeding:
We establish whether your case qualifies: As with all personal injury lawsuits, there is a statute of limitations. In California, you have two years from the incident to file suit. Our first step will be determining whether a California court would allow the case to progress. Keep in mind, personal property disruption as a result of a slip and fall has a separate three-year statute of limitations.
Our team helps determine whether an insurance claim or lawsuit is better: Sometimes, it's wiser to pursue an insurance claim than a lawsuit. There are too many considerations to list. However, our attorneys can walk you through your options. Whichever you choose, we can help ensure the case works in your favor.
Our slip and fall lawyers work to establish degrees of negligence: Slip and fall accidents can be complicated. For instance, there's not always a clear-cut definition of negligence on the part of either party. Perhaps you tripped over a poorly-maintained step, but the other party could claim you neglected to look where you were going. Our team is skilled at deflecting and minimizing the impact of these counterclaims.
How Does Share of Fault Work in California?
As covered above, slip and fall cases are often complicated. Let's say you tripped over a bicycle left on a sidewalk and are suing the owner of the bike for damages. If you were looking at your phone were talking, the owner of the bicycle could claim you were partially responsible for your injuries. While Bakerink, McCusker & Belden can sometimes deflect these claims, there are times we cannot. So, how does this impact your settlement? Assuming you were awarded a $100,000 settlement for your injuries and "pain and suffering" damages. If the jury found you were 50 percent responsible for the accident, you would receive $50,000, and the owner of the bicycle would be off the hook for the rest of the settlement. Keep in mind: Shared fault and comparative negligence can still play a role even if your case doesn't make it to trial. For these reasons and more, it is so crucial to retain the services of our attorneys.
How Long Does a Slip and Fall Lawsuit Take?
It depends. However, if a slip and fall suit involves two private parties, each is usually motivated to resolve the lawsuit as quickly as possible. So, in some cases, settlements for slip and fall cases don't take long at all. One of Bakerink, McCusker & Belden's responsibilities is to achieve a fair settlement. But another is to do so swiftly and with as little convenience to you as possible. Each case is different. Keep in mind the below timeline isn't exact, but it does provide a general idea of how long a slip and fall lawsuit might take:
March 2: The initial injury
March 4: You seek treatment for the injury
March 7: You meet with Bakerink, McCusker & Belden to discuss a potential case
March 11: We file a civil complaint or lawsuit and sometimes a demand letter to the other parties' insurance carrier.
April 12: The defendant would file an Answer to your complaint.
June 6: You and your attorney send interrogatories to the defendant.
June 16: The defendant requests all medical records related to the injury.
June 21: The court might order you to attend a mandatory settlement meeting.
July 5: You attend a defendant-scheduled deposition
August 1: A court schedules a hearing for dismissal. At this point, our attorneys can settle the case, or it heads to trial.
Contact Our Tracy, CA Slip and Fall Attorneys Today
Bakerink, McCusker & Belden has years of experience providing superior slip and fall injury services to our Tracy, CA clients, as well as to those who live in the greater San Joaquin County area. To learn more about our services or to get in touch with one of our slip and fall attorneys, contact us today.