Protect Yourself With a Skilled Car Accident Lawyer
How Do I Find Car Accident Lawyers Near Me in Tracy, CA?
If you've been in a car accident in Tracy, CA, seeking qualified legal representation is essential. Searching the internet for "lawyers car accidents" might be the first thing you do but deciding which car accident attorney to hire can be confusing. You may have injuries that need treatment or car damage that needs repair. Without an attorney, you'll be relying on insurance companies, and that may leave you without adequate compensation to cover all your costs. At Bakerink, McCusker & Belden, you can depend on receiving courteous, knowledgeable legal guidance. We've been helping people injured in car accidents for years, and our team understands California law.
Do You Need a Car Accident Law Firm?
Whether your car accident was a fender bender or a major collision, you can benefit from retaining a car accident lawyer. Right after the accident, you may think the incident was minor, but you may not feel injuries until well after the crash. Additionally, damage to your vehicle may be more extensive than it originally appeared. You may be concerned not only about compensation due to you but also about whether or not you're at fault. Without solid representation, you can find yourself in a precarious legal situation. When you work with a well-known and respected car crash attorney like Bakerink, McCusker & Belden in Tracy, CA, you will receive thorough, knowledgeable legal guidance.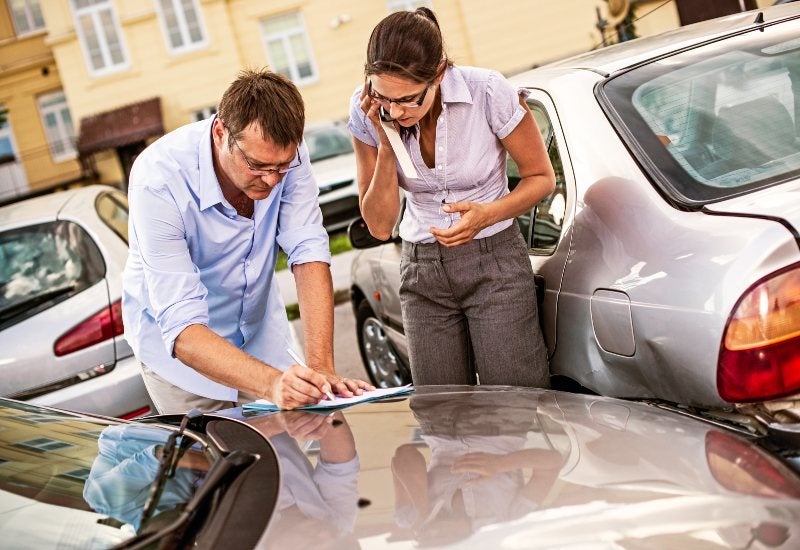 Common Causes of Car Accidents
Millions of car accidents happen every year in the United States. The National Highway Traffic Safety Administration (NHTSA) estimates that more than 42,000 people died in car crashes in 2021. Common causes of car crashes include:
Inattentive and distracted drivers
Driver fatigue
Driving under the influence
Speeding
Reckless driving
Running red lights
Tailgating
Tire blowouts
Road hazards
Bad weather
Can I Receive Compensation for Injuries From a Car Accident?
If you've been injured in a car wreck, you may be entitled to compensation for your injuries. Working with an experienced car accident lawyer is the best way to ensure you receive all the compensation for which you qualify. Every case is different, and the outcome can be influenced by which driver was determined to be at fault. The team at Bakerink, McCusker & Belden have years of experience in California, and they know how to obtain the best results for their clients. We've represented clients who have been involved in car accidents, motorcycle accidents, and bicycle accidents, and we understand the stress and expense involved. Retaining our firm will be a solid first step toward receiving the compensation you need.
Can I Be Reimbursed for Medical Costs Due to a Car Accident?
Car accidents can cause serious injuries that can linger for years. Medical costs add up quickly, not to mention time lost from work while you're receiving treatment. In many cases, you can be reimbursed for your medical costs due to an accident. Hiring a lawyer for car accidents is an important step in determining the costs for which you can receive reimbursement. California is an at-fault state, which means that whoever is determined to be responsible for the accident will be liable for the damages—but both drivers can each bear some portion of the responsibility. Working with a knowledgeable car accident law firm is highly recommended to make sure you get the reimbursement you deserve.
What if I've Lost Income Because of a Car Accident?
In a split second, your morning commute can turn ugly with a car accident. What happens when you can't make it to work because of your injuries? An accident can disrupt your entire life, including your job. You may be entitled to compensation for your lost income, but it's critical to consult with an experienced car accident attorney to determine whether or not you can recoup your lost income. Be sure to keep track of the hours you miss, along with any other work issues the accident causes.
Who Is Liable for a Car Accident in Tracy, CA?
In some car accidents, it's immediately obvious who was at fault, but it's not always easy to determine who is responsible. Police reports, citations, photographs of the accident scene and witness statements are all evaluated to determine who is liable.
Contact Bakerink, McCusker & Belden
A car accident is a frightening event, but retaining reputable legal counsel from Bakerink, McCusker & Belden is one way to take control of the situation. If you're in Tracy, CA, and need a car accident attorney, contact us today. We provide free consultations.