If you are involved in an auto accident, your knowledge of the current laws could have an impact on your case. New traffic laws hit the books in California, so do you know the new rules of the road? Here is a look at some of the most recently passed traffic laws in California. Be sure to consult with your attorney in Tracy if you have any questions.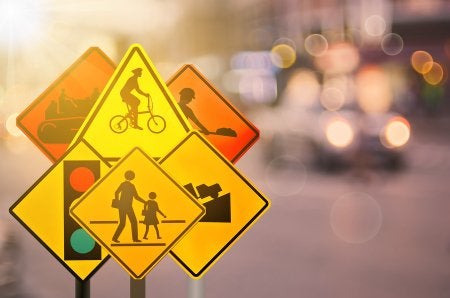 Mobile Device Mounting
Texting while driving is already against the law in California, but a loophole in the law let people claim that they were using their phones for GPS if they received a ticket for using their devices behind the wheel. This new law closes that loophole by requiring any mobile device that is in use to be mounted either in the lower right or left corner of the windshield. Further, drivers can only use one finger on the device or risk being ticketed. Drivers are not allowed to have their devices mounted in another location on the windshield that could obstruct the field of vision. If you're involved in an accident in which the other driver appears to be violating this rule, try to obtain a photo of that driver's phone placement. Your personal injury attorney could use your picture as evidence should you file a lawsuit.
Motorcycle Lane Splitting
Lane splitting occurs when motorcycles use the spaces between stopped traffic to continue traveling down the road. California is one of the few states in which motorcycle lane splitting is now legal, but only under certain conditions. Motorcycles may not travel more than 10 mph faster than the traffic around it, and they must be traveling in the same direction as the traffic. The California Highway Patrol also recommends that motorcyclists avoid lane splitting when traffic is moving faster than 30 mph.
Rear-Facing Car Seats
Under new laws, children must ride in rear-facing car seats until they are age two, regardless of their weight. The law assumes that children will reach 40 inches in height and 40 pounds in weight by that time, when they can transition to forward-facing seats.