Estate law involves complex nuances of language, and the terminology can be baffling to non-lawyers. You can always count on a will lawyer near Tracy or Manteca to fully explain anything that isn't clear to you. However, it's still advisable for all adults to have a basic understanding of the most common estate planning terms.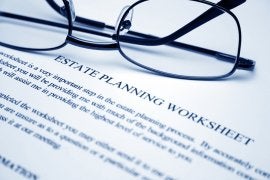 Last Will and Testament
Your will dictates how, after satisfying debts, your remaining assets in your estate will be distributed to your heirs. Heirs are also called beneficiaries. You can use your will to distribute specific pieces of property if you wish, or to provide for your pets in the event that they outlive you. If you have any minor children, you should use your will to designate a guardian for them.
Guardian
A guardian is someone whom you trust to raise your minor children in the event that you die before they reach the age of majority.
Executor
The executor of your will is the person who will be responsible for seeing that its terms are carried out. Even when the executor works with a lawyer, he or she will have many complex responsibilities. Before designating an executor, you should ask that person if he or she is willing to take on these responsibilities.
Trust
A trust is a document that is legally binding. You can transfer assets into the trust during your lifetime. The trust manages the assets, and after your death, the trust distributes the assets to your beneficiaries.
Trustee
A trustee is a person whom you've designated to manage the trust. A trustee might also be a corporate entity instead of a single person. Trustees are responsible for administering and distributing the trust in accordance with the instructions in the trust document.
Probate
Probate is a legal process. It begins when the executor of a will files the will with the probate court in order to validate it. Validating a will means to prove that it's legally valid. Probate involves paying the decedent's debts and distributing the remaining assets.