If you have your lawyer establish a trust , then the trustee is responsible for administering the trust in accordance with your wishes after your death. In Tracy and Livermore, trust administration is a significant responsibility and often requires in-depth knowledge of estate planning matters. The trustee you choose can receive assistance from a law firm, but it's still important to select a trustee who is capable of handling this responsibility.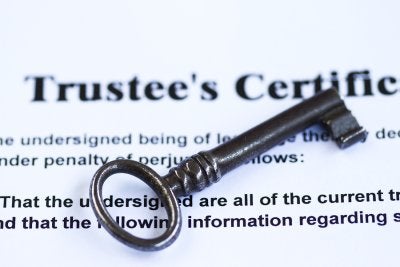 Selecting a Family Member
It's common to select a family member as a trustee or two select two family members to serve as co-trustees. If this is an option for you, then be sure to choose a family member who has solid business sense and good judgment. Your trustee should be expected to outlive you. Before settling on a relative, carefully consider whether family dynamics or family conflicts might interfere with the trustee's ability to administer the trust in an appropriate manner. Even when a family trustee has the best of intentions at heart, he or she might be influenced to make an emotional decision. If you do decide to use a family trustee, make sure that person is willing to carry out these duties after your death.
Choosing a Professional Trustee
Many people choose a professional or corporate trustee. This option may be right for you if you do not have a family member whom you trust to faithfully administer the trust or if none of your relatives are willing to assume this role. Bear in mind that a corporate trustee will charge a fee, which might be a problem for trusts that are modestly funded. However, the advantage of choosing a corporate trustee is that he or she won't be swayed by family dynamics or conflicts.
Authorizing a Relative and an Independent Advisor
It is possible to find a middle ground between choosing a family trustee versus a corporate trustee. You might decide to select a trustworthy family member to serve as a trustee, but then to also hire an independent investment advisor. This advisor could provide guidance to the trustee without charging the same high fee that would be typical of a corporate co-trustee.