Countless individuals suffer injuries and property damage each year because of careless, reckless, or drunk drivers. Unfortunately, it isn't in the insurance companies' best interests to justly reimburse victims of car crashes, which is one reason why it's essential to retain the services of a personal injury lawyer near Manteca. Your personal injury lawyer will serve as a powerful ally to help you obtain the compensation you deserve.
Evaluate the Situation
Although a car crash is a distressing situation, it's important to try to remain calm. There are a number of steps you must take to protect your legal rights after a collision. First, however, consider whether oncoming traffic could strike your vehicle. If possible, move your vehicle away from the path of other vehicles. Check yourself, your passengers, and the other driver for serious injuries. Once you've determined whether someone might need an ambulance, call 911 and provide the information requested by the emergency dispatcher. Then, if you aren't sure what to do next, you can call a personal injury lawyer for guidance.
Exchange Information
Your accident attorney can inform you of the information you need to exchange with the other driver, such as names, contact information, and insurance information. Additionally, write down the driver's license number, license plate number, make, and model of the other vehicle. Write down the names and contact information for any passengers and other witnesses, if applicable. When police officers arrive on the scene, write down their names and badge numbers, and obtain a copy of the police report.
Document the Scene
Your personal injury lawyer can use the information you collect along with your explanation of what occurred to demand compensation on your behalf. However, it can be helpful to have physical evidence to substantiate your claim. If possible, take pictures of the crash site, the damage done to both vehicles, and any injuries.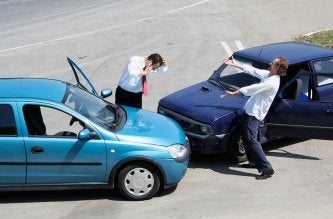 File a Claim
Your personal injury lawyer can provide invaluable assistance with your insurance claim. He or she can coach you on what you should and shouldn't say to the insurance representative, and your lawyer can negotiate with the insurance company on your behalf. In some cases, an accident attorney may file a personal injury lawsuit on behalf of car crash victims.