Truck Accident Lawyer in Tracy, CA
Here for You When You Need a Truck Accident Lawyer
Accidents involving commercial trucks are all too common. Unfortunately, these incidents tend to be much more dangerous than typical auto accidents. Large trucks can cause significant property damage, as well as major injuries to passengers and drivers. At Bakerink, McCusker & Belden, we're dedicated to helping trucking accident victims restore some normalcy to their lives. We understand the need for compensation during this time, especially if you or a loved one is dealing with a significant injury. Our team is known in Tracy, CA and the surrounding communities for exceptional legal counsel and outstanding results.
What Causes Truck Accidents?
Truck accidents may be caused by a variety of factors. No matter the cause of the accident, our team will work to gather evidence on your behalf to be presented at court. The most common causes of trucking accidents include:
Sleep deprivation and driver fatigue
Negligent behavior on the part of the trucking company
Improper loading or overloading
Speeding
Driving under the influence of alcohol or drugs
Poor maintenance
Reckless driving
Failure to inspect the truck properly
Lack of driver training
Trailer defects
Who Is at Fault for a Trucking Accident?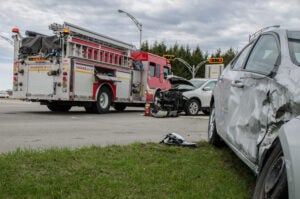 Fault varies from case to case. Generally speaking, the at-fault party was negligent in some way, causing injury to others. In most trucking accidents, the driver or trucking company can be found negligent. Once the at-fault party is identified, they may be held liable for victims' injuries and be required to repay medical expenses and other costs. In order to prove negligence in California, we'll need to cover the following bases:
Prove a duty of care
Show that the truck driver breached that duty of care
Confirm that the driver's violation caused the accident
Show that the victim was injured because of the accident
How Can a Truck Accident Lawyer Help?
A truck accident injury lawyer can help you navigate all phases of your claim against a trucking company. Unfortunately, insurance companies don't have your best interests at heart, and large trucking corporations have an incentive to give you as little compensation as possible. At Bakerink, McCusker & Belden, we're committed to helping you get the settlement amount you deserve. We understand the ins and outs of California rules and regulations concerning trucks, and we want to use our expertise to help you. Our team will help you prove fault, understand the settlement process, and get you the compensation you need.
We Can Help You Get Compensation
Our top priority is helping you earn compensation for your injuries. We're willing to fight for your rights every step of the way, no matter the size of the trucking company you're up against. No two cases are the same, so we can't predict the kind of compensation you're eligible for without taking a look at your specific situation. However, we've helped past clients earn the following types of damages:
Medical bills
Lost wages or inability to earn as much as you did before the accident
Property damage
Scarring or disfigurement
Loss of quality of life
Pain and suffering
Speak with Our Experienced Personal Injury Attorneys
When you or a loved one has been involved in a trucking accident, you deserve to work with the best truck accident lawyers Tracy, CA has to offer. Our team specializes in a wide variety of personal injury cases, and we're proud to help our clients gain the compensation they need to make a full recovery. You shouldn't have to suffer an injury without financial support and without peace of mind that the negligent party has been held responsible. Our experienced personal injury attorneys are glad to set up a free consultation to learn the details of your case.
Get in Touch with Us Today
Don't wait to file a claim against a negligent trucking company. Reach out to the team at Bakerink, McCusker & Belden as soon as possible. We'll discuss your case and create a course of action to protect your rights. Our team is dedicated to helping victims get through this physically and mentally challenging time. Tracy, CA residents have long trusted our accident lawyers, and we're ready to help you as well. Contact us today to schedule your consultation.