Premises Liability Legal Solutions in Tracy, CA
Premises Liability Attorneys at Bakerink, McCusker & Belden
If you are a Tracy, CA resident who has recently been injured while on someone else's property, reach out to one of our premises liability lawyers here at Bakerink, McCusker & Belden. Depending on the circumstances surrounding your accident and the extent of the injuries acquired, you may be entitled to financial compensation. When you rely on us, you can rest assured knowing that our team has provided unparalleled legal counsel and services to the San Joaquin County area for over 35 years. We're here to let you know that there is hope and that you don't have to let things get out of control. We can give you the legal help you need and deserve so you can get back to enjoying your life.
What Is Premises Liability?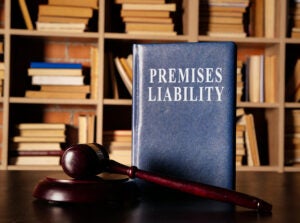 Premises liability is a legal concept that often comes into play in light of personal injury cases where the injury was caused by unsafe or negligent conditions on someone else's property. When dealing with a premises liability case, you, the injured person, will need to prove that the property owner was negligent of their property, which caused your injury to occur. This can be a tough task to complete on your own, as there are many factors that must be considered when presenting your case. That's where we come in. We will gather evidence to show that the property owner understood that their property was in an unsafe condition, and still neglected to take the steps needed to rectify the situation.
The Types of Premises Liability Cases
There are many different types of personal injury cases that can be classified as premises liability cases, as the two often go hand-and-hand. The most common types of premises liability cases we see here at Bakerink, McCusker & Belden include the following:
Dog bites or animal attacks
Fires
Broken glass
Water leaks or flooding
Inadequate building security leading to assault or injury
Snow and ice accidents
Defective conditions on the property's premises
Improper maintenance on the property's premises
Stair, escalator, and elevator accidents
Swimming pool accidents
Toxic fumes or chemicals
Premises liability cases can include a wide range of factual scenarios that should be brought to the attention of a professional lawyer. Don't let your work performance suffer or allow bills to pile up while you're forced to seek costly medical treatments and rehabilitation after your untimely accident. These types of circumstances can quickly develop into serious financial issues, forcing many people and their families into crippling debt. This does not have to be your outcome. Over the years, we have helped families in Tracy, CA and beyond establish liability against negligent property owners, and we can help you too.
Is Premises Liability the Same as General Liability?
General liability is a type of insurance that protects a business from claims of injury, property damage, and negligence. One of the most important parts of general liability insurance is premises liability coverage, which offers personal injury and property damage coverage related to the maintenance or ownership of a business' premises. Under a general liability policy, premises liability coverage helps a business or property owner to pay for the injured person's medical expenses. It also ensures that business and property owners pay for legal defense if they are sued for any additional damages.
Are You Liable If Someone is Hurt on Your Property?
It all depends on how the person was injured and what their status was on your property. Property owners are expected, by law, to appropriately maintain their property so that it is safe for all visitors. When a property owner fails to do this, they could likely be held liable for negligence. If someone has been hurt on your property, be sure to keep ample documentation of the incident and call our team of lawyers right away so we can discuss your options.
Contact Your Local Premises Liability Lawyers Today!
If you or someone you love has been injured on someone else's property and are suffering as a consequence, contact our Tracy, CA law firm today so we can set you up with one of our seasoned premises liability lawyers. Per the California Statute of Limitations, an individual stays eligible to file a premises liability claim concerning their injury for two years. If you are still within this window, do not hesitate to reach out to our skilled team at Bakerink, McCusker & Belden, so you have a chance at receiving the compensation you need and deserve. We proudly offer no-obligation, complimentary case evaluations to Central Valley because we believe everyone should have access to dependable legal services like ours. We look forward to helping you with our services.