Pedestrian & Bicycle Injury Lawyers in Tracy, CA
Among the Region's Best Personal Injury Attorneys
If you've been involved in a pedestrian or bicycle accident, a good personal injury lawyer is imperative. The team at Bakerink, McCusker & Belden is glad to take a look at your case, determine if you have a viable claim, and help you get the compensation you need to make a full recovery. We realize that being injured in an accident at no fault of your own not only causes physical pain, but it can also result in mental turmoil. We strive to reduce our clients' stress by providing outstanding legal representation. Our team is proud to serve the Tracy, CA community.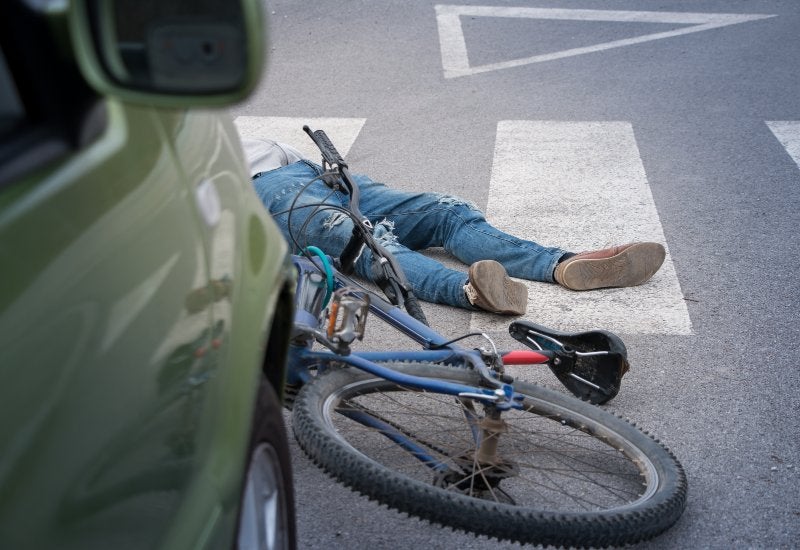 Have You Been the Victim of a Pedestrian Accident
Unfortunately, pedestrian accidents are all too common. While you can't stop a driver from being reckless, you can understand your rights. If you or a loved one has been injured by a distracted motorist, you may have a case for compensation. At Bakerink, McCusker & Belden, we're proud to provide exceptional legal representation for a variety of circumstances. We've offered counsel in the following situations:
Pedestrians hit in a crosswalk
Children hit near school crossings
Joggers struck by vehicles
Pedestrians struck while walking alongside the road
Accidents in which the driver failed to yield right of way
Parking lot accidents
Fighting for Your Rights After a Pedestrian Accident
You should always assume that the negligent party will seek legal representation. As such, you should find reliable legal counsel as well. The team at Bakerink, McCusker & Belden is always here to fight for your rights in a pedestrian accident in Tracy, CA. Too often, negligent drivers try to blame the victim in these cases, but we'll make every effort to build a solid case on your behalf. Our team has years of experience compiling evidence and arguing in court. If you have a feasible case, we're here for you.
Common Causes of Bicycle Accidents
The top personal injury lawyers at Bakerink, McCusker & Belden also specialize in bicycle accident cases. We're well aware of the numerous potential causes of an accident, and we're here to help you gain the compensation you need. In many cases, bicycle accidents are caused by a motorist's negligence. We can work on cases involving the following:
Motorists' failure to comply with traffic laws
Distracted driving
Failure to see cyclists
Driving while intoxicated or under the influence of drugs
Who Is Liable for Bicycle Accidents?
The negligent party in a bicycle or pedestrian accident should be held liable for their recklessness. However, California law isn't always straightforward about how you should be compensated for your pain. You'll have to present evidence proving that the motorist was negligent, and their failure caused your injuries. Fortunately, our team is here to help you establish fault and hold the negligent party liable in Tracy, CA.
How Can Cyclists Prevent Accidents?
While many bicycle accidents occur at no fault of the cyclist, there is still plenty you can do to reduce the risk of an accident and keep yourself safe. Never forget to wear a helmet and put on bright-colored clothing to ensure any oncoming motorists can clearly see you. Other strategies that will keep you safer on the road include:
Adding mirrors and lights to your bicycle
Always use hand signals when turning
Stay updated on the rules of the road
Stay alert and never impair your senses with earphones
You May be Entitled to Compensation for Your Injuries
Being injured in a pedestrian or bicycle accident can be costly. You'll likely be on the hook for exorbitant medical bills, and you may well lose wages while you recover. Because these accidents can take such a toll on victims financially, you should take every measure to earn the compensation you need. The pedestrian accident attorneys at Bakerink, McCusker & Belden have years of experience obtaining crucial compensation for our clients. Damages you may receive include:
Reimbursement for medical expenses
Lost wages
Property damage
Pain and suffering
Loss of quality of life
Schedule Your Consultation Today
Finding a personal injury lawyer shouldn't be just as stressful as getting into an accident. The team at Bakerink, McCusker & Belden is here for you every step of the way, from your initial consultation through trial. With years of combined experience, we've seen all kinds of pedestrian and bicycle-involved cases, and we're committed to getting you the compensation you deserve. After an accident, don't hesitate to schedule an appointment with our lawyers in Tracy, CA. Contact us today to learn more.